Ride With Me, Cowboy
---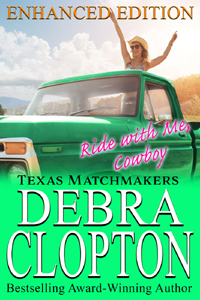 RIDE WITH ME, COWBOY

Book 12 Texas Matchmakers (Enhanced Editions)








AmazonUK | AmazonAU | AmazonCA
After family tragedy strikes horse trainer Brent Stockwell is sick and tired of being in the spotlight because of his bad judgement relationship, complete with front page tabloid photos. Now he's hiding out in Mule Hollow looking to work with his horses and heal.
Tacy Jones has come to Mule Hollow in hopes of training horses with the champion trainer-despite his well-documented romantic exploits. She's not happy to find that he doesn't believe a woman is right for the job. What? She's been raised with over protective brothers and so tired of being treated like a frail flower…so look out because this is one challenge she can't resist.
Ideas and hearts collide as these two clash in a fun, heartwarming love story that will have you laughing and rooting for love at the same time.