Love Me, Cowboy
---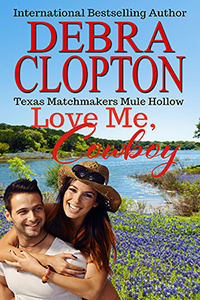 LOVE ME, COWBOY

Book 11 Texas Matchmakers (Enhanced Editions)








AmazonUK | AmazonAU | AmazonCA
Wives Wanted: For all the lonesome cowboys of Mule Hollow!
Trace Crawford never meant to break anyone's heart-it was the last thing he wanted to do but when Paisley Norton's cousin got the wrong idea about his acts of kindness that was exactly what happened. It went without saying that Paisley is madder than a hornet at him…but he knows she also has a soft heart for children and now he's got temporary custody of his infant niece and he's desperate for help…Paisley's help.
The last person teacher Paisley Norton expects to find asking for her help is the good for nothing heartbreaker…now, she just has to make sure it's not her heart that gets broken because there is no way she can refuse to help him gain custody for his baby niece.
Now sparks are flying like the fourth of July and the town is watching-can this sweet bundle of baby-girl-love bring these two hearts together?
A Christian Contemporary Western Romance series. Inspirational Novels that will make you smile. Previously published as the Mule Hollow series.
Note: This book was previously published as A Mule Hollow Match. This edition includes some fun extras.