Return To Me, Cowboy
---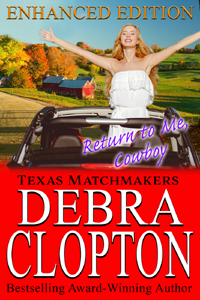 RETURN TO ME, COWBOY

Book 10 Texas Matchmakers (Enhanced Editions)








AmazonUK | AmazonAU | AmazonCA
Former Texas Ranger Zane Cantrell is looking for a woman. Not just any woman-he's searching for the woman he failed years ago when he'd been protecting her in the witness protection program. And now he's tracked her to the tiny town of Mule Hollow…the last thing he's expecting is to learn is she has a son…his son.
Prickly pear jelly maker Rose Vincent has finally found a home she and her fourteen year old son can feel safe in. A place she can start over and leave her past behind…but then part of her past walks through the door and literally knocks her off her feet.
Their past tore them apart…now can it reunite them and the love they denied all those years ago or is it too late…
Their son has ideas of his own and knows just the women to help. But is this one match even too big for the town's matchmakers?