Serenade Me, Cowboy
---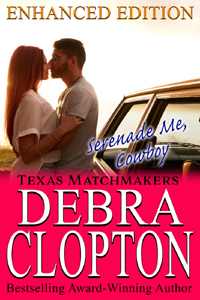 SERENADE ME, COWBOY

Book 9 Texas Matchmakers (Enhanced Editions)








AmazonUK | AmazonAU | AmazonCA
Sugar Ray Lenox's Hollywood dreams are in a slump so while she's waiting on her big break she heads to Mule Hollow to help out a friend in need…Sugar Ray's always been a fighter so she might be down but she's not given up on her dreams.
Rancher Ross Denton has had his fair share of fame and walked away. Now, he just wants to fall in love, marry and live a nice quiet life…the last thing he wants is to be dragged into opening a theater in his barn, but suddenly the starry eyed beauty he'd do good to avoid has her sights set on just that…and he's finding her hard to resist. But could small town life with him be enough to hold Sugar?
Is this the starring role in their love story the role of a lifetime Sugar Ray's been searching for?