Dance With Me, Cowboy
---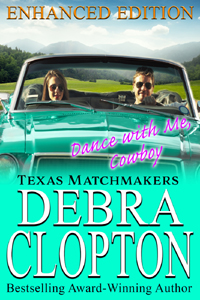 DANCE WITH ME, COWBOY

Book 13 Texas Matchmakers (Enhanced Editions)








AmazonUK | AmazonAU | AmazonCA
Widowed mother Olivia Dancer and her young daughter arrive in Mule Hollow to confront the father of her nephew. The stubborn cowboy has refused to allow her to have contact with the little boy and she is determined to make sure her deceased sister's child is doing okay.
Rancher Gabe McKennon has his reasons for being leery of Olivia Dancer, her sister ripped his life apart and he will stop at nothing to keep his son from ever going through that again. But Gabe's mother and the meddling matchmakers of Mule Hollow are not cooperating…
Then there's the fact that when Olivia shows up on his doorstep, turning her away is harder to do than he thought.
Can love find a way to heal the past and bring these two together?