Complete Me, Cowboy
---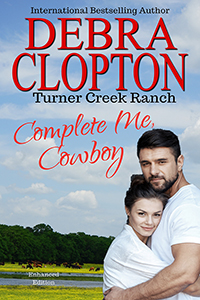 COMPLETE ME, COWBOY

Book 3 Turner Creek Ranch (Enhanced Editions)







AmazonUK | AmazonAU | AmazonCA
Payback comes in many forms…
Recuperating from a plane crash, Rancher/lawyer Wyatt Turner is in need of a physical therapist-but when the much too perky and much too pretty therapist shows up at the ranch he says absolutely no way. However his younger brothers are looking to pay him back for the matchmaking he did for them and they decide Amanda is perfect for the job. They rehire her against Wyatt's will and suddenly the tables are turned on him…Wyatt helped marry them off to fulfill their great, great grandfather's legacy but he's never planned to be part of that legacy himself.
Amanda Hathaway accepts the challenge of the obstinate cowboy because she needs the job, but she has no plans to let the man intimidate her…besides their fiery relationship is a welcomed distraction from her own personal heartache.
Both Amanda and Wyatt have hidden hurts that are exposed during this heart touching story of love, loss and overcoming what life throws at you. But can love overcome Amanda's heartache…Wyatt is determined it will..
Welcome to the Turner Creek Ranch where the legacy of love lives strong.