Sweet Talk Me, Cowboy
---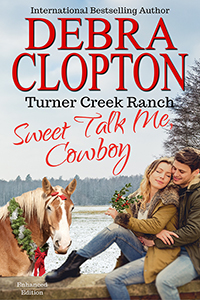 SWEET TALK ME, COWBOY

Book 4 Turner Creek Ranch (Enhanced Editions)







AmazonUK | AmazonAU | AmazonCA
Can love find a way?

Single mother Lynn Perry and her two small twin sons are finally out of the Mule Hollow women's shelter and will be having their first Christmas in their new home. It's a dream come true and absolutely nothing could possibly make it any better…and then the matchmakers send hunky cowboy preacher Chance Turner over to help hang lights. Suddenly she's thinking of mistletoe and kisses. But trusting another man is something she's never willing to do again, not now that she finally has life for her and her son's planned out perfectly.
Former bull rider and cowboy pastor Chance Turner isn't planning on sticking around and after a crisis of faith he's never planning on preaching again. But suddenly this small family is tugging at his heartstrings and before he leaves he can't help but try and help their Christmas the best it's ever been.
Can mischievous five year old twins, a host of matchmakers and a runaway bird help this couple find love before it's too late? It may take a Christmas miracle to make all their dreams come true.
Welcome to the Turner Creek Ranch where the legacy of love lives strong.