Dream With Me, Cowboy
---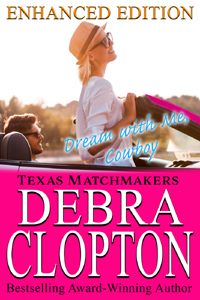 DREAM WITH ME, COWBOY

Book 1 Texas Matchmakers (Enhanced Editions)


(eBook FREE for limited time from these retailer sites, just click the link!)







AmazonUK | AmazonAU | AmazonCA

Wacky hairstylist Lacy Brown is a whirlwind of trouble just waiting to happen when she drives into the dying Texas town and joins up with the matchmakers determined help all the lonesome single cowboys find wives. She has big dreams and a vision, but she's not counting on a certain cowboy being the key to making her dreams come true.
To save a dying town it'll take more than dreams and buckets of paint, it'll take a whole lot of love…if she can just open her own heart to the possibility.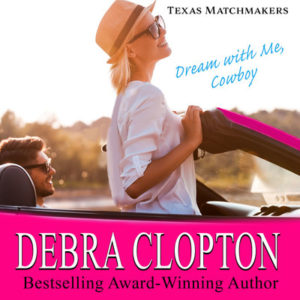 Also Available in Audio!
Amazon | Nook Audiobooks | Kobo | Google Play | iTunes
Audible | Libro.FM | Audiobooks.com | eStories
Check out a sample HERE.