Ty
---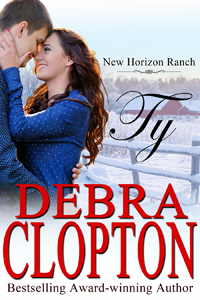 TY
Book 4 New Horizon Ranch








AmazonUK | AmazonAU | AmazonCA
German Language Version: AmazonDE
All he wanted for Christmas was a do-over with her.
Christmas wedding bells will be ringing if the Matchmakin' Posse of Mule Hollow can get this stubborn cowboy and cowgirl together under the mistletoe for the most anticipated kiss of the holiday. Will Ty Calder, mild mannered partner in the New Horizon Ranch, get his secret Christmas wish and heal his lonesome heart this season? Find out in Book 4 of the New Horizon Ranch/Mule Hollow series.
Horse trainer Ty Calder did the right thing four years ago and sent his best friend, Mia Shaw off with a hug and best wishes in her quest for her rodeo dreams to come true. But now she's back for the Christmas holiday and he's not sure he can send her off again without revealing his true feelings…
Mia is back in Mule Hollow healing up from an injury that could end her run for the championship. But, lately her heart's not been completely committed to her rodeo dreams and Ty has her thinking he might just be the reason.
Suddenly, tensions are running high between Mia and Ty…sparks are flying and have been spotted by the Matchmakin' Posse. Now these two are dodging mistletoe, matchmakers and the kiss they're both fighting to avoid and longing for.
But Ty can't believe Mia is ready to give up on her dreams when she's so close…he knows it means more to her than most people realize. No matter how much he wants a life with Mia he refuses to stand in the way of her dreams even if it means losing her forever…
It may take his four partners at the New Horizon Ranch and the town of Mule Hollow to get these two believing Christmas is especially the time that love can conquer all.
This is going to be one Christmas these two will remember forever…