True Love of a Cowboy
---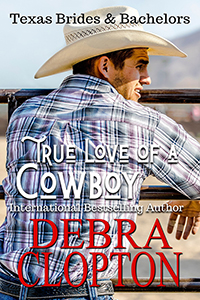 TRUE LOVE OF A COWBOY

Book 3 Texas Brides & Bachelors



AmazonUK | AmazonAU | AmazonCA

If they can overcome their past these cowboys will make great husbands.
A tragedy he can't forget or forgive, a child she'll fight for. Will a little boy's love bring them together and heal their hearts?
After her sister dies, Annie Ridgeway learns her six-year-old nephew isn't fatherless but has a daddy she never knew about. Turns out it's the little boy's hero, bull-rider Colt Holden and now she's on a mission to right a terrible wrong and discover whether Colt is daddy material. She's seen the cocky cowboy on TV and she's not holding her breath.
Colt Holden wishes he were dead. Better him than the family that collided with him one dark night he wishes he could forget. In an instant, his life changed and he wishes he could change everything. Still, reeling and guarding a burdened heart, the last thing he needs or wants is to discover he's a father.
Feeling unworthy of this gift, Colt must try and come to terms with his past for his son's benefit but first he must prove himself worthy to his son's aunt.