The Creating of Debra Clopton's new Cowboy's of Sunrise Ranch
---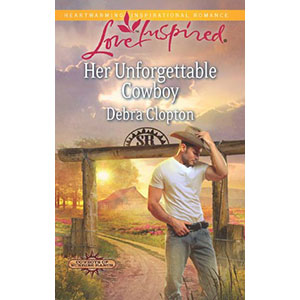 The idea for my new series caught my attention when I read an article about a reunion at a boy's ranch not too far from my hometown. I had always known about the ranch, a foster home to a large number of boys, but I didn't know very much about it. But comments written by men who'd once called the ranch home as children and teens, touched me. Each credited the ranch and the people who worked there with making a difference in their lives when they'd felt hopeless and forgotten. Instantly my heart and imagination was captured and knew I had a new series.
How did I know this? Because the McDermott men sauntered into my head and told me they weren't leaving until I told the story of their ranch—and the legacy that had been their dying mother's vision: to share God's love and the beauty of the west Texas ranch where they were blessed to live, with boys who had no home to call their own. Yes, these three strong cowboys were figments of my imagination but they had my attention.
And thus my new series The Cowboys of Sunrise Ranch was born.
The series revolves around Morgan, Rowdy and Tucker McDermott along with their dad Randolph and their grandmother, Ruby Ann "Nana" McDermott. The heart of the ranch Nana was essential in bringing Lydia McDermott's dying wish to life. For the last eighteen years as Lydia's son's grew into men, they've shared their ranch with sixteen abandoned boys at a time. And now that they've grown into men they are committed to help carry the torch and keep their mother's dream alive, making a difference in the lives of the boys who call the ranch home.
I couldn't help but have a torch of my own to carry—I am a romance writer after all and Morgan, Rowdy and Tucker had come to me—so each one of them gets the lead in a romance—whether they want it or not!
A series isn't a series without a group of folks who make you want to pull up a chair and sit a while—any of you who've read my Mule Hollow series know that I do love my people. So, not only did I have fun getting to know the McDermott's but also the boys living on the ranch, ranging from age eight to eighteen—I promise they will touch your heart.
And then there's the small town of Dew Drop, just down the road where you'll meet Mabel Tilsby the owner of the Dew Drop Inn and spitfire Ms. Jo owner of The Spotted Cow Café and her quirky waitress Edwina—who will keep you wondering what she's going to say or do next. Ever since I created her she's been spouting wisecracks and giving cowboys a hard time. These are just a peek at some of the folks who make up the series.
The series was a natural fit for me because it is small town, heartwarming and an endless supply of awesome cowboys who have stories—plus hometown fun. I had a blast writing these stories that will touch your hearts, make you smile and laugh a little too.
I hope you'll be on the lookout for Her Unforgettable Cowboy book 1of The Cowboys of Sunrise Ranch series, May 2013…Morgan McDermott has just found out his ex-fiancé, champion kayaker Jolie Sheridan has been hired by his dad as the ranch's temporary school teacher! After nearly drowning in a terrible accident, Jolie is back in town looking for forgiveness and a little tender loving care from the cowboy she's never been able to forget…
When I create any series or book I see it as a movie in my head. I create my towns with TV series and movies in mind wanting to create that feeling of small town community that brings readers and viewers back wanting more. I did this with my long running Mule Hollow series and was delighted when I got the news that one of the books from that series, Operation: Married by Christmas had been optioned and was now in development as an ABC Family movie starring LeAnn Rimes! (read more in the blog here at my website) I love the idea of seeing the book and series come to life and hope that The Cowboys of Sunrise Ranch catches someones attention too…especially you, the readers! Hope you enjoy Her Unforgettable Cowboy.
Thanks so much for stopping by and don't forget to check me out at http://facebook.com/debraclopton.5 and enter sweepstakes for book also here on this website under contest!!!