New Sunset Bay Release!
---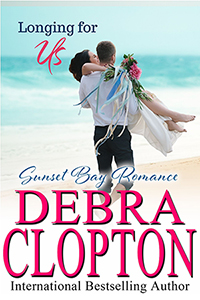 LONGING FOR US

Book 6 Sunset Bay Romance

Buy now!
AmazonUK | AmazonAU | AmazonCA
Paperback Coming Soon!

A fireman with a wounded heart and a woman with an adventurous free spirit, can one choice change their lives?
A sought after internationally recognized photographer, Cassie Sinclair, is at a turning point after an accident on the side of a mountain. Now struggling with uncertainties, she returns home for her brother's wedding and an extended stay. When she is suddenly needed as a backup nanny for the handsome firefighter's daughter, her uncertainties multiply when sparks fly between them and the unexpected attraction throws them both into turmoil.
Hunter Claremont has been through enough heartache and disappointment where love is concerned. He's focused now on his new job as a fireman in Sunset Bay and raising his young daughter, helping her overcome the tragedy of losing her mother. They've found a place to start over in the small coastal town, among its caring and sometimes eccentric folks. And they've found friends in the Sinclairs, the family his sister has married into, with strong family ties and big hearts, who have welcomed him and his sweet daughter with open arms. His only problem…he keeps thinking about Cassie Sinclair and he can't seem to get her off his mind.
Can a small-town fireman and a woman with wanderlust in her veins find a happy ending?