My new book HER FOREVER COWBOY
---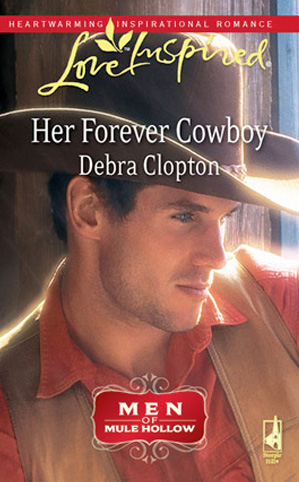 Hi Everyone,
LOL well this is a new year and I haven't gotten any better about doing a great job with my blog. I'm still behind as you can see. But I'm here now and thrilled to show you the cover of my January release HER FOREVER COWBOY. Isn't this a great cover? I love it. I thought the art department out did themselves on it. The lighting detail glinting off of him just makes it wonderful…of course it doesn't hurt to have such a handsome cowboy too.
So far the reviews for the new trilogy have been great and readers letters have been so encouraging. I hope if you haven't read it that you'll grab one off your local Walmart's shelves or other store where you shop and that you'll send me a note when you've finished. This was a fun book to write.
Here is the blurb:
HER FOREVER COWBOY By Debra Clopton
Mule Hollow, Texas, is full of handsome cowboys, all ready to say "I do." So veterinarian Susan Worth moves in, dreaming of meeting Mr. Right.
He's most certainly not gorgeous rescue worker Cole Turner, a sixth-generation Mule Hollow rancher not likely to settle down. But Susan is determined to make him her forever cowboy.
excerpt from: Her Forever Cowboy by Debra Clopton Published by Love Inspired Steeple Hill Available:ISBN-13:copyright: 978-03738145102009