Maddie's Secret Baby
---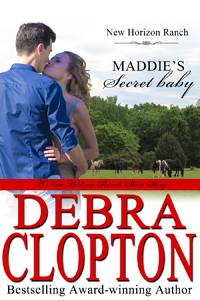 MADDIE'S SECRET BABY

Book 7 New Horizon Ranch








AmazonUK | AmazonAU | AmazonCA

Paperback


Keeping a secret has never been so hard—all Maddie wanted to do was let Cliff be the first to know they were expecting a baby!
But getting caught in a hold up at the Sip-N-Go with the Matchmakin' Posse (aka the grapevine of Mule Hollow) and two teenagers, has Maddie fighting to keep chaos from breaking out inside the convenience store. And now just getting everyone out alive is Maddie's goal. But Maddie's used to wrangling cattle and bulls into line and doing what it takes to get the job done…now, keeping three feisty, old ladies from driving the robbers to shoot them just to shut them up is proving to be a rodeo of a new kind.
Keeping her baby secret, fighting robbers, the Posse and morning sickness has Maddie unsure if she'll ever see Cliff again, much less share her secret baby news.
Don't miss story #7 in the New Horizon Ranch series. A short story involving Maddie and Cliff from book #1 in the series. If you've been hoping for baby news for them during this series you'll enjoy this quick fun read.