Kissed by a Cowboy
---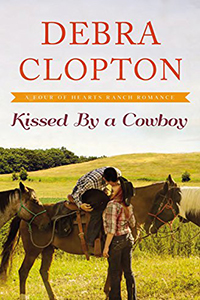 KISSED BY A COWBOY

Book 3 Four of Hearts Ranch Romance


Buy Now







AmazonUK | AmazonAU | AmazonCA

Paperback


Having lived through her parents' divorces, Cassidy Starr knows when the stakes are not in her favor. Divorced herself and humiliated, her faith on rocky ground Cassidy is done with love. Finished. So over it.
…Instead, she's returned to Wishing Springs Texas and the rundown farm she's inherited from her great aunt Roxie. She'll reopen the organic strawberry farm and a Bed & Breakfast– follow in her aunt's footsteps and remain forever-independent, happy and single…
Rancher Jarrod Monahan's hands are full running the ranch, helping to look after his ailing grandfather and track rustlers on the loose. He's pushed all longings for a family of his own right off of his list of priorities. Besides he was in love once and ran scared and lost his shot. But suddenly the regret of his life has moved in next door with a wounded, closed up heart determined to become a spinster…and that's not happening on his watch.  
Suddenly sparks are flying as Jarod has one thing taking priority and that's breaking down the walls around Cassidy's stubborn heart. He's going to prove that being kissed by this cowboy comes with a lifetime commitment and the matrimonial bliss she's given up on.
And the good folks of Wishing Springs have decided that falling in love has never been so fun to watch.