Holding Out For Love
---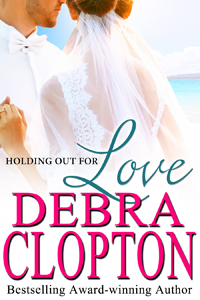 HOLDING OUT FOR LOVE

Book 5 Windswept Bay







AmazonUK | AmazonAU | AmazonCA

Like the sweet music of a love song, Windswept Bay has a magic of its own and on moonlight nights and sun bronzed days love is in the air. Debra Clopton's new series will sweep you away to romance that leaves your heart thumping with the satisfaction of pure heartwarming romance.
Jillian Sinclair needs a man and she needs him now. She dreams of being a mother-but the doctor just gave her the news that if she plans to carry a baby herself then her time is running out. She also wants true love like her sisters but will she have to settle for something less than that in order to get her baby?The last thing she needs is the only man she's loved and lost coming back to town.
Undercover cop, Ryan Locke is back in Windswept Bay but for how long? He broke her heart once when he chose his career over her. Can he be the answer to her prayers or will his dedication to justice take him away from her once more?