Drake: The Cowboy and Maisy Love
---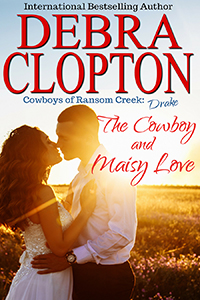 DRAKE: THE COWBOY AND MAISY LOVE
Book 6 Cowboys of Ransom Creek







AmazonUK | AmazonAU | AmazonCA
She's full of life and made for adventure. He's built from family responsibilities and devotion to commitments.
The last thing Drake Presley needs is to be attracted to the lavender-eyed beauty with a teasing tongue and no sense of what responsibility means. She's a roamer built for leaving. Only problem, he can't stop thinking about her, and despite the fact that they rub each other the wrong way, she seems to have decided that it's her all-fired duty to loosen him up.
Free spirited Maisy Love is determined to see all fifty states traveling in her refurbished travel trailer and all before she turns thirty-five. She has two years to get it done. Focused on her internet show, On The Road with Maisy Love. She's found the perfect place for her next show, The Goodnight Café. The fact the place is full of handsome cowboys is an added bonus for her viewers.
Trouble is, she just tangled with a skunk and a handsome cowboy with serious green eyes and her world just turned upside down, a relationship is not part of her plans.
Too bad for her, Drake Presley is gorgeous, tempting and despite smelling like a skunk he draws her like a bee to honey water.
Fireworks like never before are shooting off this summer and it's not from the town celebration. Can these two opposites come to an agreement on the subject of love?