Debra Clopton's OPERATION: MARRIED BY CHRISTMAS–ABC Family Movie Starring LeAnn Rimes
---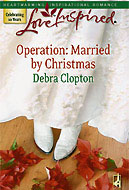 Yes, some very exciting news for any fans of my Mule Hollow Series! Operation: Married By Christmas has been optioned by VAST Entertainment for an ABC Family movie starring LeAnn Rimes! Yes, there is still a chance that it could fall through but Vast Entertainment is excited about it as are all those involved. We very well could see Mule Hollow come to life soon! I am thrilled with the idea and very excited about the idea of LeAnn Rimes playing the role of Haley Bell Thornton–she would be wonderful bringing Haley to life. Check it out at http://www.vast-entertainment.com/home/index.php The wonderful reality is that it has been: Optioned by Vast.  Picked up by Orly Adelson.  Distributed through ABC. And the lead is Lead: LeAnne Rimes.
So–stay tuned and if you are interested in being in a drawing this month to win a copy of the book go to my Face book page and "LIKE" my page. http://www.facebook.com/debraclopton.5  and for a second chance to win a copy leave a comment here on this blog post. What do you think about LeAnn being Haley Bell Thornton? What about all the other fun quirky characters from Mule Hollow–got any thoughts of who could play them 🙂
Reviews from RT Magazine
About "Operation: Married by Christmas": Right from the outset Debra Clopton's story is a fun-loving book, but in "Operation: Married by Christmas", it is the deeper matters of the heart that Will and Haley must face. While there's humor, there's also a wonderful level of tenderness – a feeling of coming home – that makes this book complete. — Robin Taylor, Romantic Times – 4 1/2 stars
DON'T forget to sign up for my newsletter and contest here on my website!!! Go to the CONTEST page and fill out the info. Newsletter coming soon!