Cherish Me, Cowboy
---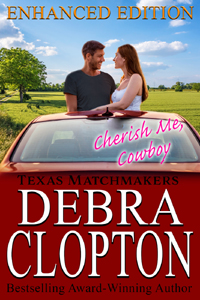 CHERISH ME, COWBOY

Book 7 Texas Matchmakers (Enhanced Editions)








AmazonUK | AmazonAU | AmazonCA
Old McDonald had a farm…the childhood song is on his mind because widower Nate Talbert has new neighbors–but there is nothing old about the beautiful McDonald who just moved her rambunctious son and farm load of animals in next door.
Looking for a fresh start widow Pollyanna McDonald moves to the tiny town with the national "wives wanted" ad campaign. If women are coming they'll need a place to stay. Opening a B&B gives Pollyanna a chance to bring her young son up on a farm like her late husband had hoped to do before he died. Unable to open her heart again Pollyanna's not looking for romance-only she never expected the cowboy next door…
Suddenly both their worlds are turned upside down and their hearts are on the line.
It'll take a posse of matchmakers, a singing cockatiel, a little boy and his puppy to get these two to give love a second chance…