Be Mine, Cowboy
---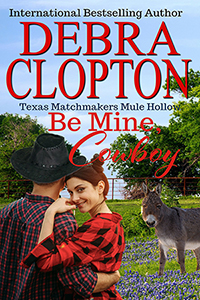 BE MINE, COWBOY

Book 5 Texas Matchmakers (Enhanced Editions)








AmazonUK | AmazonAU | AmazonCA
From award-winning author Debra Clopton comes the Texas Matchmakers series—about three older women who set off a nationally advertised "Wives Wanted Campaign" to bring women to their small town of Mule Hollow to marry the lonesome cowboys. A far fetched idea that's working—look out fellas, the women are coming one car at a time! Prankster Sheri Marsh came to Mule Hollow to go into business with her best friend Lacy Brown…she did not come to fall in love with one of the towns cowboys. Her past has taught her happily-ever-after doesn't exist for her.
But now, the "matchmaking posse" as she dubbed the town matchmakers have set their sights on her despite being told she's not interested. And just to teach them a lesson she hatches her own plan-all she needs is a cowboy just as eager to keep them off his back as she is to get them off of hers.
Horse trainer Pace Gentry is just the man she needs for her plan to work…now she just needs to convince the quiet cowboy that pretending to be her boyfriend and teaching the ladies a lesson is the right thing to do.
Escapades in Mule Hollow just took on a whole new level of the unexpected
A Christian Contemporary Western Romance series. Inspirational Novels that will make you smile. Previously published as the Mule Hollow series.
Note: This book was previously published as Meeting Her Match. This edition includes some fun extras.