An Ever After Summer
---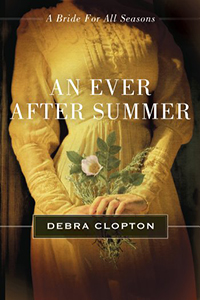 AN EVER AFTER SUMMER

A Bride for all Seasons

An Ever After Summer
It all started with an ad in a mail-order bride catalogue . . .
Ellie has no idea she's not what Matthew ordered. And what's wrong with being a "Bible thumper" anyway? She's determined to show him she's tougher than she looks–and just the girl he needs.
A born killer, Melvina Eldora Smith killed three people before the age of one: her mother giving birth, her father of a broken heart, her drunk uncle in front of a bar with a runaway buggy–her father and uncle she's not sure about, but Ellie's aunt assures her all three deaths were Ellie's doing. Determined to leave her bad luck behind, Ellie answers a Wife Wanted Ad: lonely widower looking for love and mother for his baby…
This is purely business and Mathew's ad left no room for misunderstanding–widowed rancher looking for a practical woman to raise his baby. So what's he to do with the beautiful mistake who gets off the stage clutching a Bible in her delicate hands!  Believing her bad luck has turned and God's got a plan, Ellie aims to prove it to Mathew–if her good luck holds out and she doesn't kill him first!
An Ever After Summer is also available in print format in the anthology collection, A Bride for All Seasons.
A Bride for All Seasons:
From Thomas Nelson Publishing, award winning author  Debra Clopton is joining with best selling authorsMary Connealy, Margaret Brownley and Robin Lee Hatcher to bring you 4 fun, 1800′s mail order bride stories in one collection that are sure to warm your heart and make you smile!
1800s mail-order bride catalogs facilitated many happy marriages. Here are the stories of four couples who owe their wedded bliss to creative editing by The Hitching Post publisher.
"And Then Came Spring"—Margaret Brownley
When mail order bride Mary-Jo Parker arrives in town she receives the shock of her life; not only is her fiancé dead, he left behind an eight-year-old son he neglected to mention. But the biggest challenge of all is the boy's way-too-handsome uncle.
"An Ever-After Summer"—Debra Clopton
Widower Matt McConnell wrote his ad with no room for misunderstanding—Bible believers need not apply. But then Bible-thumping Ellie shows up on his doorstep. Matt's so desperate for her help that he accepts.
"Autumn's Angel"—Robin Lee Hatcher
Luvena Abbott's privileged childhood didn't prepare her for the hardship she now faces as an adult, especially when it comes to being the guardian of her nieces and nephew. Marriage seems the only answer to her dilemma. Clay Birch hopes to change the hurdy-gurdy house he won in a poker game into the finest opera house in the Northwest, but he'll need help to do it. Could this unlikely couple actually be the perfect match?
"Winter Wedding Bells"—Mary Connealy
David Laramie is looking for a woman to care for his children. In exchange he'll make her financially comfortable for life. But no woman wants to marry a dying man. Then Megan responds to his ad. It seems his "edited" letter contained no mention of him dying.