A Few Fun Coincidences with Debbie Macomber
---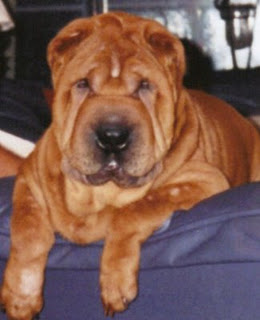 I'm a huge fan of author Debbie Macomber. She is such a wonderful author and person who writes fantastic books. Through the years I've gone to many workshops she has presented at conferences and like all authors out there can only hope to have small portion of a career such as hers. To touch so many lives in a positive way is truly inspiring.
Often I run over to her website
debbiemacomber.com
so I can see what she has coming out next or I read her blog. It's been a little while since I was there last and so yesterday when I dropped by I found out a new fun tidbit that we share. You see I publish under the name of Debra but all my friends call me Debbie. So we have that in common. Also, Debbie's husband's name is Wayne and my wonderful late husband's name was also Wayne. But wait–
there's more.
Last night I saw that Debbie and Wayne have a new puppy and they've named him Bogie! LOL this is a picture of my Bogie, he was my husband's puppy…he is even featured in my book Next Door Daddy. No they are not the same breed of dog but they are both adorable (my Bogie is a Chinese Shar Pei and Debbie's Bogie is a tiny mix of Pomeranian and Shih Tzu. ) I hope the Macomber's Bogie brings them as much joy as my Bogie has brought me 🙂
So as my good friend and fellow author Linda Goodnight says that is a really fun coinkydink! I love it and can't think of anyone whom I would like sharing such a fun coincidence with…hmmm, I wonder what her childrens names are? 🙂
Okay back to working on the latest Mule Hollow book. Be sure an keep an eye out for TEXAS RANGER DAD in April 2009. I'll be posting the cover soon!
Debra Clopton