NEW SERIES from Debra Clopton! Windswept Bay
---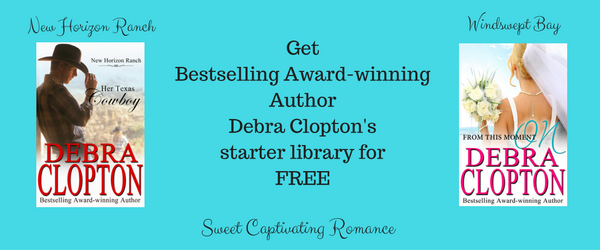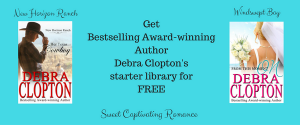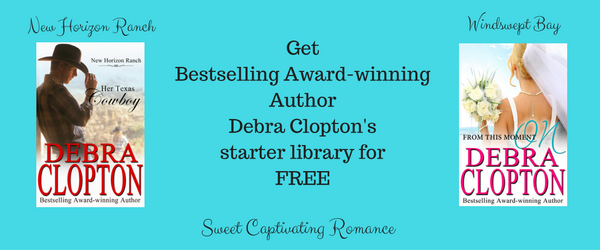 Sadly, sweet summer time is winding down and this Texas girl always hates to see it go. I love summer and spend half of it at home working on my latest romance and the other half, I'm traveling all across the country with my husband with his job. Since I have computer will happily travel, I've written some of my best work on airplanes and road tripping through the beautiful country. Despite that I travel so much, up to this point all of my books have been set in my  beloved Texas but this summer I'm diversifying with a new series and a new setting.
    And so I'm thrilled to be celebrating the release of my new Windswept Bay series. These books feature the Sinclair family nine brothers and sisters who are all about to encounter love one book at a time on the shores of their beloved family owned  Windswept Bay Resort. Book 1 FROM THIS MOMENT ON and book 2 SOMEWHERE WITH YOU is releasing tomorrow, September 13. And then the connecting short story WITH THIS KISS its a good one that will lead readers into book 4,  FOREVER AND FOREALWAYS is coming in Oct. With  HOLDING OUT FOR LOVE later in the year.
    Mingled in with each romantic story of each of the Sinclair siblings: Cali, Shar, Jillian, Olivia, Cam, Levi, Jake, Max and Trent. There will also be short stories of visitors falling in love at the resort too, adding to this multi-layered sweet but romantic series.
    I'm loving creating this series and being able to bring in elements I myself love, other than my love of spunky Texas heroines and heart-stopping cowboys in my New Horizon Ranch series (which just this month released book 8 AUSTIN) Windswept Bay is a place to highlight my love of Florida coast, sun bronzed day, moonlit nights and all the adventure and romance of this gorgeous area. Since we, as a family, vacation in the Florida Keys every summer and I look forward to it every year this new series was a natural fit for me.
   I hope you'll pick up copy and get swept away with the romance of Windswept Bay. It's going to be summer all year long!
  And if you're looking for a cowboy lookin' for love grab a copy of AUSTIN-New Horizon Ranch book 8 or one of the other books in this popular fun, heartwarming romantic series.
   To keep up with what's coming next join my newsletter, follow me on Facebook and you'll never miss out on my latest releases. And I'd love you to join my new Face Book Group Debra Clopton's Book Posse