The Cowboy's Bride for Hire
---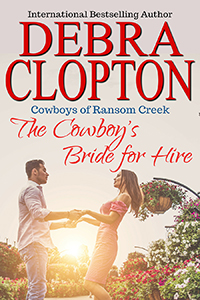 THE COWBOY'S BRIDE FOR HIRE
Book 2 Cowboys of Ransom Creek








AmazonUK | AmazonAU | AmazonCA
Single males in need of a bride for a day? This is strictly an at your service business proposition. . . Do you need the eyes of a woman to help plan and/or set up an event with your personal interest and taste in mind, but with an added touch of your bride—if you had one—then call Bride for Hire and let me do the work…
Jilted twice Bella Reese has no plans to find out if three's the magic number. She's done with men. But she's always loved the idea of being a bride, setting up house, planning parties making sure things are pretty and homey-the perfect nest for a home…and she's determined not to give up on that dream. Six months after her final wedding fiasco she's turned a new leaf and opened her business, Bride For Hire. So far she's been amazingly busy with corporate events with no "homey" entering the equation. Until now…
After being jilted by his ex, Rancher Carson Andrews will never make the marriage mistake again. But now his daughter is turning four and he wants to make her fourth birthday special and redecorate his ranch house to make it more "homey" for a growing little girl. The irony of his situation is he lives on the outskirts of Bride Texas the legendary home of the jilted bride…a small town south of Fort Worth.
When his cousin Cooper Presley shows him the ad from a Fort Worth newspaper it's everything he's looking for—even the plainly stated—absolutely no romance involved. Carson makes the call.
It sounds like the perfect plan until he meets Bella.