Vance: Her Second-Chance Cowboy
---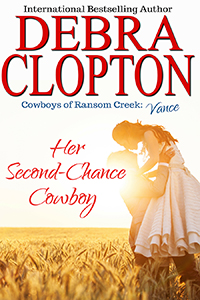 VANCE: HER SECOND-CHANCE COWBOY
Book 5 Cowboys of Ransom Creek







AmazonUK | AmazonAU | AmazonCA

Speculation is out of control and running rampant in Ransom Creek: Who is the new waitress at the Goodnight Café? What's her story?
Libby Smith aka, Libby Dunaway can't catch a break. She's been on her own since she was seventeen and has struggled but made it, until everything caught up to her…now, hiding out in the small town she hitchhiked to, she's hoping to lay low until it's safe to go home, if ever. Thankfully, the towns folk are nice and the cowboys too…especially one who totally throws her off every time he walks into the room.
Professional bronc rider Vance Presley is at the top of his profession when he comes home for his brother's wedding and sees the new waitress at the café again. She's cute and nervous when he's around, dropping things and freezing up and totally adorable. Funny thing is every time she looks at him with those big blue eyes of hers he can hardly think straight himself.
When she shows up at his brother's wedding he asks her to dance…and that's when things spin out of control.
Sweet romance is blooming in Ransom Creek one cowboy at a time. A good clean and whole romance series readers are falling in love with.

What readers are saying about the series!
I have to say Debra has a gift for telling stories and Cooper and Beth's love story another masterpiece. Texas Romance at its finest! (texasangel71)
Wow-I'm really enjoying this Ransom Creek series.There's so much going on, mystery, thrills and romance.The stories are great, there's something for everyone.I laughed until my eyes teared up. (kindle reader)