An August Bride
---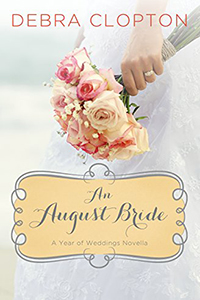 AN AUGUST BRIDE

Book 9 A Year of Weddings


Buy Now







AmazonUK | AmazonAU | AmazonCA
A year's worth of novellas from twelve inspirational romance authors. Happily ever after guaranteed.
As far as Kelsey Wilcox is concerned, her last cowboy was the last cowboy.
Kelsey Wilcox has had enough of cowboys. After the last one broke her heart, Kelsey traded in her boots for flip-flops, and the open range for a bistro on the beach.  Her life on Corpus Christi's gorgeous beach might be a little lonely, but at least it's heartbreak-free. At least until her cousin's beachside wedding bucks Kelsey right back into the rodeo.
When unlucky-in-love Brent Corbin packed his groomsman's tux for his friend's wedding, he brought his boots and belt buckle with him. Brent isn't exactly looking for love, but when he sees what appears to be a mermaid in distress, he jumps right in to rescue her.
So Kelsey finds herself plucked from the sea—and certain-drowning—by a gorgeous groomsman . . . in soaked cowboy boots. She's quick to say thanks, but no thanks.
Brent dedicates the weekend to pursuing Kelsey—and Kelsey spends the weekend trying to deny an obvious match. She's as stubborn as a wild horse, but Brent's determination may tame her yet. 
I'm thrilled to be involved in the Harper Collins A YEAR OF WEDDINGS novella collection! Each month starting the day after Thanksgiving Denise Hunter kicks off a the year with her novella and then each month after that one very talented author's novella will be released as an ebook release during the year of 2014. Then in 2015 the novellas will be released in seasonal collections. My novella AN AUGUST BRIDE, release in August
 Aren't the covers gorgeous? And all of you MULE HOLLOW fans will be happy to know that AN AUGUST BRIDE features the notorious Matchmaking Posse of Mule Hollow–though the story takes place on the gorgeous shores of Corpus Christy, Texas.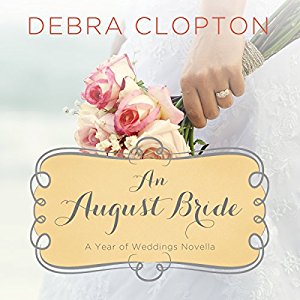 Also Available in Audio!
Amazon | Nook Audiobooks | Kobo | Google Play | iTunes
Audible | Downpour | Libra.FM | Audiobooks | eStories
Check out a sample HERE.