Small-Town Moms
---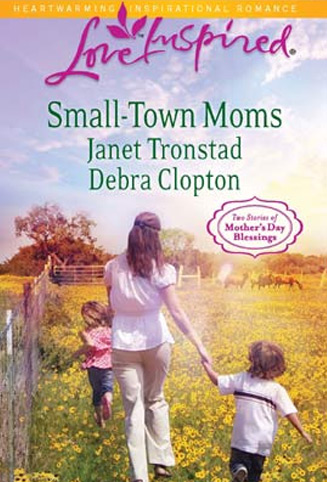 ~ A Mother for Mule Hollow by Debra Clopton ~
Widowed mother Olivia Dancer arrives in Mule Hollow, Texas, to check on her nephew—and his single father. But gorgeous rancher Gabe McKennon isn't exactly welcoming, for reasons that break and touch Olivia's heart. Until they're both won over by the town matchmakers and a little boy who just wants a mama.
~ A Dry Creek Family by Janet Tronstad ~
Maegan Shay is on a mission—to meet her long-lost niece, Lilly, in Dry Creek, Montana. When Maegan discovers she and Lilly share a special trait, the two grow close. Now the girl's handsome guardian, Clint Parker, fears he can't be what Lilly needs. Unless Maegan can show him what faith and family are all about.
       
Excerpt from: Small-Town Moms, copyright 2011 by Janet Tronstad & Debra Clopton, Published by Love Inspired/Harlequin, March, 2011, ISBN: 9780373876617.
In "A Dry Creek Family" by Tronstad, and "A Mother for Mule Hollow" by Clopton. These interconnected stories are a delight to read, and bring home the importance of family, whether related by blood or only by love."
Reviewed By: Susan Mobley Four Stars RT Book Reviews