Small-Town Brides
---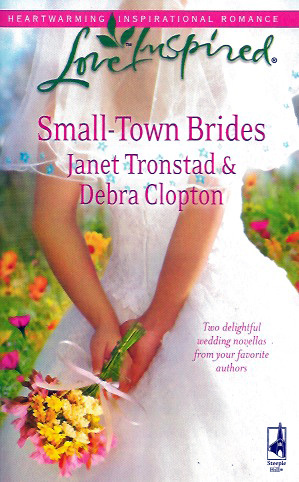 A Mule Hollow Match by Debra Clopton
Trace Crawford broke Paisley Norton's cousin's heart — so Paisley thinks he deserves whatever trouble he gets! Yet Trace really is lost when it comes to caring for his new niece. Paisley's got a soft heart for children… and for adorably clueless cowboys, too.
A Dry Creek Wedding by Janet Tronstad
When her neighbor proposes a "practical" marriage, romantic Rene Mitchell throws the ring in his face. Fleeing Texas for Montana, Rene rides with trucker Clay Preston. Clay doesn't believe in romance… until Rene changes his mind!
   
excerpt from: "Small-Town Brides," copyright 2009 by Janet Tronstad & Debra Clopton. Published by Love Inspired-Steeple Hill June, 2009. ISBN: 978-0-373-87531-3.