Debra Clopton's New Releases and Complete Book List
---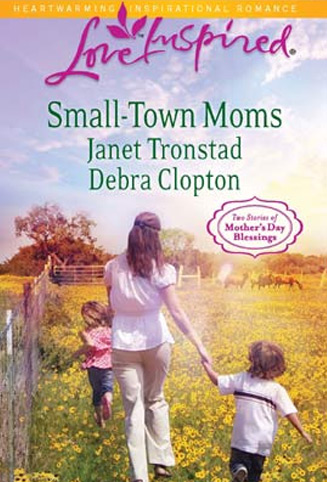 I'm really excited this month!
Not only do I have my second anthology with Janet Tronstad releasing this month Small Town Moms, but I also have my very first Love Inspired Classic coming out which is my two books reprinted together in one book. I love this!
When I wrote The Trouble with Lacy Brown and introduced Mule Hollow I never, ever believed I would be writing my 19th book with more on the way set in Mule Hollow. I originally created Mule Hollow as a place that invited you to stop inside, park your worries and cares at the door for a little while and relax with your friends for a little while. Little did I know that after the three books I thought would be the end of my little town that readers would embrace it so much that I would still be creating more stories set there. Its been a wonderful ride and I've come to talk about my people there as if they were my family. People ask often for a complete list of Mule Hollow books so here it is…I hope if you're enjoying them that you'll grab a copy of the new Classic of THE TROUBLE WITH LACY BROWN and AND BABY MAKES FIVE and you'll give it to a friend and invite them to step into Mule Hollow with me and the gang! And then my novella in Small-Town Moms: A MOM FOR MULE HOLLOW is the latest installment and a story I realy enjoyed this story.
Debra Clopton's book list:
1 The Trouble with Lacy Brown
2 And Baby Makes Five
3 No Place Like Home
4 Dream a Little Dream
5 Meeting Her Match
5 Her Baby Dreams
6 Operation: Married by Christmas
7 Next Door Daddy
8 Cowboy Takes a Bride
9 Texas Ranger Dad
10 Small Town Brides anthology: A Match For Mule Hollow
11 Lone Star Cinderella (where the Turner family of Men Of Mule Hollow is introduced Seth's story)
12 His Cowgirl Bride
13 Her Forever Cowboy (Men of Mule Hollow Cole's story)
14 Cowboy For Keeps (Men of Mule Hollow Wyatt's story)
15 Yukon Cowboy (Alaskan Brides series)
16 Yultide Cowboy (Men of Mule Hollow Chances story)
17 Classic: Reissue of The Trouble with Lacy Brown / And Baby Makes Five
18 Small Town Mom's: A Mom for Mule Hollow
19 coming in September 2011 Her Rodeo Cowboy
Thanks for dropping by, until next time live, laugh and seek God with all your hearts,
Debra Clopton