A Much Needed Rest and Relaxation in the Florida Keys
---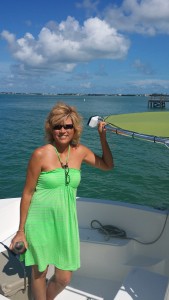 Every year we look forward to June because that means its time to head to the Florida Keys for a week of relaxing and fishing…okay, the guys fish and I relax! By June I'm always pretty exhausted from the blessing of constant deadlines-except that the last 3 years I have been so swamped that I actually worked most of the time I was there. It was still a wonderful place to create and very enjoyable. This year I was able to actually completely relax. Here I'm getting on the boat to spend the day at Bahia Hondo State Park on the water while the guys fished for Tarpon. I wore green in honor of the amazingly delicious Key  Lime Pie that is so famous in the Keys .
I spent a little time on the beach at Bahia and had  several close walk-bys from feathered friends!
In the back ground you can see the famous rail road bridge that is no longer in use but at one time was the only way to carry supplies to Key West I believe…I think I'm going to do some heavy research on this-I really think I want to set a series here. But what its really famous for now, at least to my guys is that that bay is full of Tarpon at certain times of the year.
The sunsets were amazing and the sunrise on the last morning was a masterpiece! God really does out do himself.
The water  is so blue it just doesn't look real to me…
We always stay at the same condo complex because the view is amazing. For the last 4 years there has been the same large crab living in a hole beside a palm tree and he was there again this year and for the first time ever I caught him crawling around in the flower bed instead of peaking at me from his hole.   But we took a few pounds to a local restaurant and let them cook it several different ways for us so we had a wonderful meal together.
And then we had to say goodbye until next year. This is Chuck shark fishing at the Seven Mile Bridge  on the  last day with the boat…lol I'm driving the boat for the  first time as he reels in his catch. The line broke right before we got a picture.  Last morning before we get in the car to come home. I've had sun, sleep and rest…I'm ready to write again 
And I began on the long drive home.
But, you all might know I love beautiful older cars! We stopped along the way in Orlando to spend time racing go-carts! It was fun and there was a car show and gorgeous cars. But this 62 vet had me at hello!!! The nice owner had a Do Not Touch sign on the car but I was excited when he insisted I get in and take a picture in the car.
WOW I did not say no haha. Look at this beauty   isn't that the most gorgeous car! He even told me how to sit with my hand on the steering wheel and my elbow hanging over the edge
Sadly, he did not give me the keys!!!
I hope you enjoyed a peek at the trip. I'll be traveling with Chuck a lot this year and putting up post of our travels as he works and I write along the way. I've also got a few trips I haven't posted that I'll be getting up soon so I hope you'll come back soon. In the mean time don't miss the new books I have coming out COUNTING ON A COWBOY (BOOK 3 Four of Hearts Ranch Romance )  and CHASE (book 3 New Horizon Ranch of Mule Hollow)
Live, Laugh and love…and read!
Debra
PS: If you're looking for a great place to stay we love Key Colony its a great quiet, laid back  community in Marathon with a huge selection of places to stay and many different price ranges. Sparky's Landing is a fun place to eat right there in Key Colony and they'll cook your catch for you too.