WELCOME!    Thanks for stopping by my website! We are in the process of updating some pages and making the site easier for you to find exactly what you need.  2015 has been an exciting , busy year and 2016 is going to be even more exciting. To make certain you get the latest releases join my newsletter by hitting the Subscribe button above this post and you won't miss a single release or a chance at a fun giveaway! Don't miss out.  
I'm writing like crazy and having a blast creating new content for you to enjoy. So welcome to my world-lets have some fun!
  ~~MY LATEST RELEASE!  DALTON Book 5 of the New Horizon Ranch /Mule Hollow
Dalton Borne is a cowboy who keeps his past closed up inside. He's watched his partners at the New Horizon Ranch find love and he's happy for them and even envious. But his past prevents him from believing he deserves a future that includes a love of his own. But then one stormy night he rescues a very pregnant Rae Anne Tyson from floodwaters and nearly ends up delivering her baby on the side of the road. Suddenly Dalton's life is turned upside down and no matter what he believes he does or doesn't deserve—he can't walk away from helping Rae Anne.
Don't miss book 5 in the New Horizon Ranch series…Dalton Borne is one Texas cowboy you'll never forget.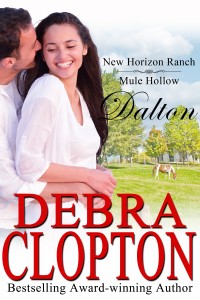 Also Releasing this month! ~~ KISSED BY  COWBOY Book 3 in my Cowboys of 4 of Hearts Ranch Romance Series
Cassidy was looking for a home and a place to belong . . . not for a cowboy to steal her heart.
Having lived through her parents' endless string of "matrimonial bliss gone wrong," Cassidy Starr knows when the odds are not in her favor. Divorced and humiliated, her faith on rocky ground, Cassidy is through with love. She's been bucked o_ that horse far too many times. Instead, she returns to Wishing Springs, Texas, and the rundown farm she's inherited from her great aunt Roxie. She'll reopen the strawberry farm and a bed & breakfast and follow in her aunt's footsteps, remaining forever-independent, happy . . . and single.
Rancher Jarrod Monahan's hands are full running the ranch, looking after his ailing grandfather, and chasing down a group of rustlers on the loose. He's pushed his longing for a family to the bottom of his list of priorities. Besides, he was in love once but ran scared and lost his shot at happiness. But suddenly, the biggest regret of his life has moved in next door with a wounded heart, determined to become a spinster . . . and that's a challenge that Jarrod can't pass up.
Jarrod sets his mind to breaking down the walls around Cassidy's stubborn heart. How can he show her that a cowboy's kiss lasts forever? For the good folks of Wishing Springs, falling in love has never been so much fun to witness.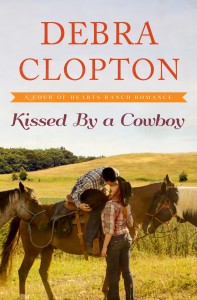 Buy           
Book 4 of the New Horizon Ranch/Mule Hollow Series TY~~
  It's Christmas on the New Horizon Ranch and lonesome-in-love horse trainer, Ty Calder' s Christmas wish is a do-over…but Christmas wishes are for kids. Right? 
 Four years ago, not wanting to hold her back from her dreams TY sent his friend, Mia Shaw off with a hug and best wishes in her quest for her rodeo dreams . But now she's back for the holiday and he's not sure he  can send her off again without revealing his true feelings.

Mia is back in Mule Hollow healing up from an injury and rethinking her championship dreams. Lately her heart's not been completely committed to her rodeo dreams and Ty has her thinking he might just be the reason.

Suddenly, sparks are flying and have been spotted by the Matchmakin' Posse. Now these two are dodging mistletoe, matchmakers and the kiss they're both fighting to avoid. It may take his four partners at the New Horizon Ranch and the town of Mule Hollow to get these two believing Christmas is especially the time that love can conquer all.  
                                                      BUY