WELCOME!    I'm so glad you stopped by! I write romances that will leave you with a smile. My goal is to take you into the worlds I've created in my small town romances and entertain you with stories of hope, love and joy.
If you love cowboys, romance and sparks then you'll love my 3 cowboy series set in Texas. The newly enhanced ebook Texas Matchmakers, New Horizon Ranch and the Turner Creek Ranch Series.
If you love beach romances then fall in love with the Sinclairs! In 2016 I began a series set on the fictional Florida island of Windswept Bay. These are sweet, captivating romance. The four Sinclair sisters found love last year now the  5 handsome Sinclair brothers will fall in love. So grab a copy of From This Moment On book 1 while it's FREE and get swept away with me and the people of Windswept Bay. 
Don't miss a moment or a new release please join my newsletter  Subscribe now and that way you won't miss a single release or a chance at a fun giveaway! You'll be the first to know when something new is on pre-order or on sale.  
Welcome to my world-lets have some fun!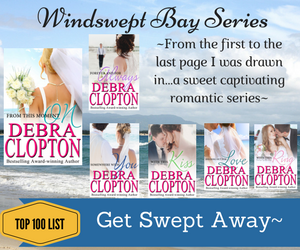 Like the sweet music of a love song, Windswept Bay has a magic of its own and on moonlight nights and sun bronzed days love is in the air. Debra Clopton's new series will sweep you away to romance that leaves your heart thumping with the satisfaction of pure heartwarming romance. Don't miss my Windswept Bay series!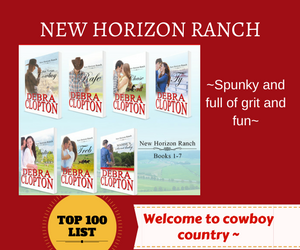 New Horizon Ranch: What happens when five ranch-hands inherit a Texas ranch from their boss~ These cowboys and cowgirl vow to honor their beloved boss by making the New Horizon Ranch the success he envisioned when he chose to leave his legacy in their care. Along the way they each find the love of a lifetime. You'll fall in love with these sweet cowboy  romances.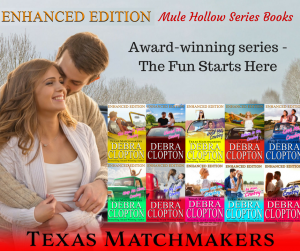 Out Now~Texas Matchmakers series—fun begins when three mischievous matchmakers start a nationally advertised "Wives Wanted Campaign" to bring women to their dying town of Mule Hollow to marry the lonesome cowboys. A far fetched idea that's working—look out fellas, the women are coming one car at a time!

Out Now~Turner Creek series—it all begins with a historic stagecoach house, a hunt for treasure from the past and a big brother determined to carry on his great, great grandfathers legacy by marrying off his brothers. This series is set in Mule Hollow so of course the posse is involved…
  MY NEW RELEASES:
With This Promise the 2nd Sinclair brother is about to meet his match when he buys the riding stable on the beach and comes to the rescue off teacher Lana Presley. Don't miss this newest book in the Windswept Bay series…fall in love once more on the sun bronzed shores of the beautiful Florida coast….2017 is the year the 5 gorgeous Sinclair brothers find love.
Buy WITH THIS PROMISE (Cam's story)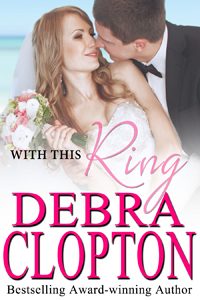 Recent Release~Book 6 Windswept Bay
FREE 1st book of the Sinclair Men of Windswept Bay
WITH THIS RING (Levi's story)
After her small son, Kevin, asked both God and Santa for a new daddy for Christmas, and then didn't find him under the tree, school teacher, Jessica Lyons is starting the new year out with a very unhappy six year old on her hands. Kevin can't understand that she's only been a widow for 2 years and she can't imagine marrying again—not yet at least. But, unknown to her Kevin has a plan and has decided that if God and Santa won't give him what he wants then maybe the police can!
When the very handsome Chief of Police, Levi Sinclair shows up as Kevin's Show-and-Tell he believes, as does Jessica, that her son has asked him there to show him off as the "police chief"—it's a little awkward when Kevin introduces Levi as his next daddy!
Things are getting a bit complicated on the shores of Windswept Bay! Come join the fun in With This Ring book 6 of this captivating series. You've watched the four Sinclair sisters fall in love now it's time to watch the five Sinclair brothers find the women of their dreams.
Like the sweet music of a love song, Windswept Bay has a magic of its own and on moonlight nights and sun bronzed days love is in the air. Debra Clopton's new series will sweep you away to romance that leaves your heart thumping with the satisfaction of pure captivating romance.
For ALL the Blurbs check out Windswept Bay Page
Also Titles click through to book blurbs
SPECIAL PROMOTIONS!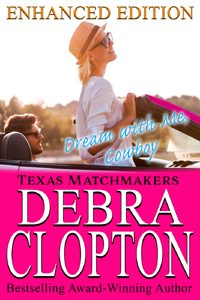 DREAM WITH ME, COWBOY book 1 TEXAS MATCHMAKERS~
FREE 1st in series!
Hairstylist Lacy Brown is a whirlwind of trouble just waiting to happen when she drives into the dying Texas town and joins up with the matchmakers determined help all the lonesome single cowboys find wives. She has big dreams and a vision, but she's not counting on a certain cowboy being the key to making her dreams come true.
Rancher Clint Matlock has rustlers to catch, but from the moment the impetuous Lacy rams her pink monstrosity of a car smack into his jeep she begins turning his town-and his life upside down. Despite all of his determination he's suddenly having trouble keeping his mind on his business….
To save a dying town it'll take more than dreams and buckets of pink paint, it'll take a whole lot of love…can Lacy and Clint, despite their obvious differences, open their hearts to the possibility that they belong together.
Note: This book was previously published as The Trouble With Lacy Brown.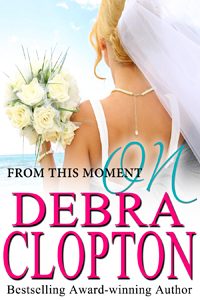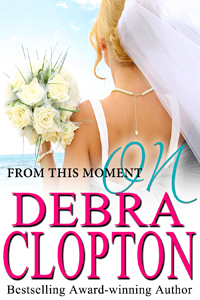 Book 1 Windswept Bay
For a Limited time  FREE start reading today!
Hurt by her failed marriage and dashed dreams, Cali Sinclair returns home to Windswept Bay with her heart wary and closed to the dreams of true love she so desperately wanted. Determined to never again risk her heart, she throws herself into running the family's small boutique resort on the Florida coast, a place so full of romance that it's a reminder every day of what she'll never have. But when renowned artist Grant Ellington shows up to paint a mural on the wall of the resort, she's swept away by her response to the artist. Suddenly, every time he looks at her, Cali finds it harder than she ever thought possible to keep her heart protected.
Grant Ellington loves his ranch, his horses, and his life as a sought-after artist. But after walking away from a plane crash that killed his best friend and the young pilot, he's still struggling with survivor's guilt as he heads to Windswept Bay. Painting a sea life mural at the resort started out as a favor to his neighbor, but one meeting with the beautiful Cali and he feels alive again—and determined to spend time on the moonlit beaches with her in his arms…
But, like him, Cali has her own emotional scars—can they learn to trust the love that sparks between them and move forward from this moment on?