WELCOME!    I'm so glad you stopped by! I write romances that will leave you with a smile. My New Horizon Ranch series has grown in 2016 from 3 to 8 and if you love cowboys, romance and sparks between hero and heroine set in Texas then this is the series for you. Readers are loving these Texas romances. And I'm thrilled to announce that in August I released my first story in my new series set on the fictional Florida island of Windswept Bay. I'm having so much fun creating these romantic stories with a new beach setting. Romance is in the air with the Sinclair family. 9 brothers and sisters and each will have their story. So grab a copy of From This Moment On and get swept away with me and the people of Windswept Bay. 
To make certain you get the latest releases please join my newsletter by hitting the Subscribe button above this post. You won't miss a single release or a chance at a fun giveaway! Don't miss out on a single book because you'll be the first to know when something new is on pre-order or on sale.  
I'm writing like crazy and having a blast creating new content for you to enjoy. So welcome to my world-lets have some fun!
MY RECENT RELEASES!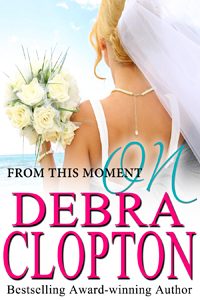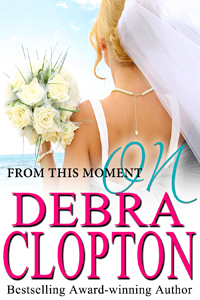 FROM THIS MOMENT ON Book 1 Windswept Bay
      Buy now
Hurt by her failed marriage and dashed dreams, Cali Sinclair returns home to Windswept Bay with her heart wary and closed to the dreams of true love she so desperately wanted. Determined to never again risk her heart, she throws herself into running the family's small boutique resort on the Florida coast, a place so full of romance that it's a reminder every day of what she'll never have. But when renowned artist Grant Ellington shows up to paint a mural on the wall of the resort, she's swept away by her response to the artist. Suddenly, every time he looks at her, Cali finds it harder than she ever thought possible to keep her heart protected.
Grant Ellington loves his ranch, his horses, and his life as a sought-after artist. But after walking away from a plane crash that killed his best friend and the young pilot, he's still struggling with survivor's guilt as he heads to Windswept Bay. Painting a sea life mural at the resort started out as a favor to his neighbor, but one meeting with the beautiful Cali and he feels alive again—and determined to spend time on the moonlit beaches with her in his arms…
But, like him, Cali has her own emotional scars—can they learn to trust the love that sparks between them and move forward from this moment on?
MADDIE'S SECRET BABY Book 7 New Horizon Ranch
Keeping a secret has never been so hard—all Maddie wanted to do was let Cliff be the first to know they were expecting a baby!
But getting caught in a hold up at the Sip-N-Go with the Matchmakin' Posse (aka the grapevine of Mule Hollow) and two teenagers, has Maddie fighting to keep chaos from breaking out inside the convenience store. And now just getting everyone out alive is Maddie's goal. But Maddie's used to wrangling cattle and bulls into line and doing what it takes to get the job done…now, keeping three feisty, old ladies from driving the robbers to shoot them just to shut them up is proving to be a rodeo of a new kind.
Keeping her baby secret, fighting robbers, the Posse and morning sickness has Maddie unsure if she'll ever see Cliff again, much less share her secret baby news.
Don't miss story #7 in the New Horizon Ranch series. A short story involving Maddie and Cliff from book #1 in the series. If you've been hoping for baby news for them during this series you'll enjoy this quick fun read.
Buy now
 TREB Book 6 New Horizon Ranch
Former special ops soldier Treb Carson has returned to his ranching roots joining up with the New Horizon Ranch. Afghanistan and the loss of his brother have him ready to move forward into happier times-he's looking for love and to start a family. He's not expecting to be captivated by Megan Tanner, the completely wrong woman for his plans. The workaholic, new veterinarian in town doesn't have marriage on her agenda and she's made that clear, but he can't get her or the kiss they share off his mind.
Megan Tanner has her personal reasons for not believing in happily-ever-after, but now she's moved to the hometown of the Matchmakin' Posse of Mule Hollow. Avoiding their antics is easy for now, its calving season and that means no time for anything but work and building her vet practice. But then she's blindsided by the smokin'-hot, ex-military cowboy and the immediate sparks she can't deny or the kiss she can't forget.
Treb knows all the reasons why Megan isn't the woman for him…but he can't seem to stop himself. Now he's determined to find out why Megan is so against falling in love and proving to her that she can trust him with her heart.
And he's got a certain three, nosy ladies on his side…can the "Posse" help this couple find their happily-ever-after?
Buy now